In our quest to find similar board games like Codenames we had to round up as many Party games that had enough going on in the gameplay and mechanisms to make a good match.
Codenames at a Glance
Game Type
Team Based,
Word, Deduction,
Memory, Push Your Luck
Play Time
15 mins (approx)
Skill/Complexity (1.5 - 5)
Light


Age
14+
Publisher(s)
Czech Games
Published
2015

Categories
Family
Party / Word
Players
2 - 8 + (best 6 - 8)
Rules Manual
Official Rules
Our Rating
9/10
Cost
$19.99 approx
Related
Codenames Duet
Games Like Codenames
Codenames is a Party type Word card game that uses Spies and Secret Agents within a theme that has mechanisms which include – team based play, push your luck, using your memory and deduction.
As always we have tried to add something in the list of games that will differ from the game needing comparisons (Codenames). Variety is the spice of board gaming life!
Let's take a look at our choices that are all well worth checking out!
Dixit – Smart Clue giving advances this Game
Dixit is a card based game that has quite strange and surreal images on the front of the cards, and players use the inside of the box to place rabbit markers for scoring.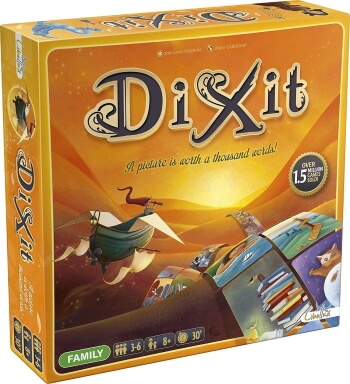 Dixit at a Glance
Game Type
Card Game, Humor, Deduction,
Communication Limits,
Storytelling
Play Time
30 mins (approx)
Skill/Complexity (1.3 - 5)
Light


Age
8+
Publisher(s)
Libellud and others
Published
2008

Categories
Family
Party
Players
3 - 6 + (6 is Ideal)
Our Rating
9/10
Cost
$27.99 approx
Each player within this game has a hand of cards and one player (the storyteller) at a time places one of their cards on the table then offers the other players clues about the card. Now, the great part and twist with Dixit is you need at least one person to guess your card image and you don't want all players guessing it correctly to enable you to win points. The player with the most points at the end of the game wins.
Players must get creative with their clues which should not be obvious or ridiculously hard to guess, although there are some strange instances of people guessing randomly and getting it right. The balance of obscure and obvious is a must!
In terms of comparisons that match with Codenames it's about the team based aspect (or rather a singular player being a storyteller), and it's a party and deduction game. It misses out on the word stuff, but makes it up in peculiar pictures.
Dixit is a 3-6 player (5-6 is best) fast game that will play out in 30 minutes or so, and with the right group of players that are able to give creative clues – it's a lot of fun. The age recommendation is 8 years old and above, however, younger players may also need to play at a level where everyone gives the same level of clues.
Decrypto – A close side by side Comparison
There was Codenames and then came along Decrypto which makes a very close party and word game comparison with Codenames, and better in many gamers eyes.
Decrypto at a Glance
Game Type
Team Based,
Word, Deduction,
Communication Limits,

Play Time
15 - 45 mins (approx)
Skill/Complexity (1.5 - 5)
Light


Age
12+
Publisher(s)
Le Scorpion Masqué
Published
2018

Categories
Party / Word
Players
3 - 8 + (best 4 - 6)
Our Rating
9/10
Cost
$19.99 approx
In Decryto players split into two teams and create code words to encrypt messages. Players aim to intercept and crack the other teams codes while preventing the other team from intercepting theirs. One player from each team is the encryptor that aims to transmit codes to his team players without the opposing team intercepting, so your encryptor can't be too obvious to the opposing team or too obscure to their own.
The components in Decryto are quite unique and different compared to Codenames. Each team has a kind of screen stand that cards are placed in and a note sheet to write down clues and other information. You'll also have a timer which is used when one teams encryptor has their clues planned to put the other team under pressure to sort their clues out within a time limit.
The game ends when one team has 2 Interception tokens (they intercepted the other teams code) and wins, or a team has 2 Miscommunication (they failed to communicate clues) tokens and loses. An extremely interesting and unique way to win or lose the game.
Decryto is as close as a game can get like Codenames that plays out for around 15 – 45 minutes and requires two teams of 4 – 8 players (4 – 6 is best) although there is a 3 person version of rules. The age recommendation is ages 12 and up.
Without a doubt if you're a fan of Codenames, you must give Decrypto a blast. They are both great games in their own right with so many similarities and differences.
Spyfall – Team Based "Who's The Spy Game"
Another Spies and Secret Agents party type game that ticks many of the games like Codenames boxes is Spyfall. Players all take a card and one person is the secret spy with all players trying to discover who the spy is and who isn't. It's fun and nutty at times.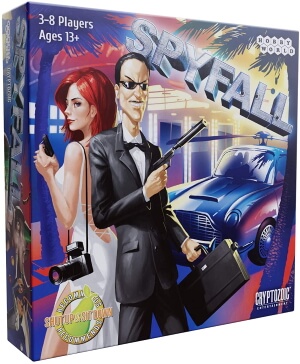 Spyfall at a Glance
Game Type
Team Based, , Deduction,
Communication Limits,
Bluffing, Memory,
Role Play

Play Time
15 mins (approx)
Skill/Complexity (1.5 - 5)
Light


Age
13+
Publisher(s)
Hobby World and Others
Published
2014

Categories
Family / Party
Players
3 - 8 + (best 4 - 6)
Our Rating
8.7/10
Cost
$23.99 approx
Spyfall requires the spy to find out the location of the other players to win that round and if non-spies unanimously vote that one person is the spy and he/she is then they win the points for that round. The tricky and fun part of all this is how to ask questions, especially if you're the spy (too explicit or vague can lose a game/points).
It is one of those games that requires the right group to play that enjoy social deduction and bluffing, and someone to get the gameplay right before a group plays. We mention the gameplay as an obstacle in the game "especially for the spy" is knowing the locations without looking at the location sheet which gives the game away that you're a spy (there are ways around this).
If you're the spy then this game is hard graft for many people as you're in the spotlight and you don't want to show that. This makes it fun and tense for some, however, some of the more introvert players may struggle.
Spyfall 2 was published in 2017 that's basically the original Spyfall which can be played with more than six players and with 2 spies.
The playing time of this game is around 15 minutes and plays with 3 – 6 players (6 is best). The manufacturers age recommendation is ages 13 and up.
CrossTalk – Be Cautious With Those Clues
CrossTalk is another team-based social game that requires two teams of players. Each team has a clue giver that's giving out clues at the same time, with each clue giver needing to be cautious, not giving away too much to the opposing team.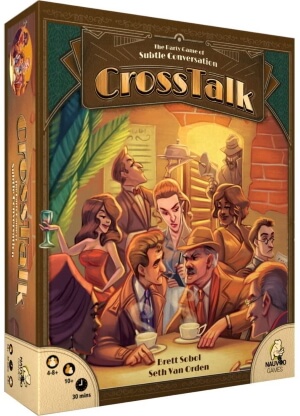 CrossTalk at a Glance
Game Type
Team Based,
Word, Deduction,
Communication Limits,

Play Time
20 - 30 mins (approx)
Skill/Complexity (1.5 - 5)
Light


Age
10+
Publisher(s)
Nauvoo Games
Published
2017

Categories
Party / Word
Players
4 - 8 +
Our Rating
9/10
Cost
$29.99 approx
A couple of interesting and cool aspects of CrossTalk is both clue givers have to decide together on the chosen secret word/words that teams must compete to find out. Then during the game players can use what's called a clue board, once only within a game that helps their clue giver refine what's happening so far with clues given. These add a different spin on a Codenames type of game.
What's really fun about this game is when both teams are on a tangent that may seem similar, but they're both on about something else. So, you can think you are picking up great clues from the other team when in fact they are leading you down the garden path (not purposely).
There is a lot of talk about Codenames being better, CrossTalk being better and then the others favoring Decrypto. However, we have found that all three have similarities and their differences, and if this type of game is someones cup of tea then play all of them as they are all great fun and match well.
One thing we feel about this game is that it does require more thought than Codenames, which is good thing for most people.
A game of CrossTalk plays out in about 20 minutes or more when scoring points, and you can use a timer supplied. The age suggestion is from age 10 and up, and plays with 4 – 8 people.
A Fake Artist Goes To New York – Great Hidden Role Party Game
A Fake Artist Goes To New York has its similarities with Codnemaes in terms of the secrecy aspect (Fake Artist) and deduction of who could be the dishonest artist via not connecting with the groups alternate drawing outcome.
Nobody needs to be an artist, by the way!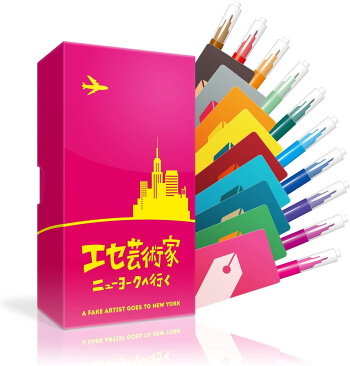 A Fake Artist Goes To New York at a Glance
Game Type
Bluffing , Deduction,
Drawing, Role Playing,
Targeted Clues
Play Time
20 mins (approx)
Skill/Complexity (1.5 - 5)
Light


Age
8+
Publisher(s)
Oink Games
Published
2012

Categories
Party / Family
Players
5 - 10 (best 6 - 8)
Our Rating
8.7/10
Cost
$38.99 approx
This game is played out with one player of each round being the question master that gives out the title and fake artist cards. Players are given a card each with a title and then the question master tells all players which category the title is related to, however, one player is given the fake artist card which that player and the question master only knows.
Once the game is set up and cards are given players, then everyone takes it in turns drawing part of the title cards details, including the fake artist. Now, you must all try and guess by voting at the end of the round who is the fake artist and if players get it correct they win points, but if they don't then the fake artist and question master gets the points. The fake artist can win all the points if they also guess the picture, although this is near impossible.
This is a fun and entertaining variation within our list of games like Codenames and really adds something enjoyably different. It could be seen as a kind of Pictionary x Spyfall game, combining aspects of each.
A Fake Artist Goes To New York plays out in around 20 minutes and has an age recommendation of 8+. Between 5 – 10 people may play, although above six seems hard for it to work well.
Concept – Charades on a board with Cards
Concept is a team based party game that's a type of charades where players do not use physical expressions to help others to understand the item or phrase which they need to tell you.
The concept of Concept is great and unique!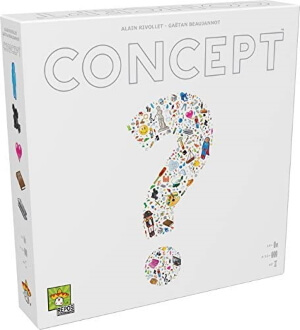 Concept at a Glance
Game Type
Team Based, , Deduction,
Communication Limits,

Play Time
40 mins (approx)
Skill/Complexity (1.5 - 5)
Light


Age
10+
Publisher(s)
Repos Productions and Others
Published
2013

Categories
Party
Players
4 - 12 (best 6 - 8)
Our Rating
8.5/10
Cost
$31.99 approx
The game consists of a deck of cards, board with pictures and symbols displayed, and various pawns and cubes. The cards are used for a team to choose a thing or phrase that they need to communicate to the other team, and the board with its pictures and symbols is how that team gives clues.
All players from one team pick up points when their turn is guessed successfully by the other team, and the first person who guesses the word or phrase gets the points. You play in teams of two, however, you win by points at the end separately. You can forget about points if you wish and just play for fun.
Concept is a game where you have to really think about how to show others what's on the card and the other players have to work their minds at putting all the clues together. It becomes a lot of fun and weird answers come into play that's a good laugh.
This game still has the party, deduction, team based and communication limit aspects of Codenames, however, as you can see it has got other fun stuff going on that also makes it different.
Concept can be played with various groups of 4 – 12 player types, including children aged 10 and up, and it plays out in about 45 minutes, when playing all rounds.
The Chameleon – Who's The Chameleon?
The Chameleon is another party card type game with one player hiding their role to avoid getting found out, and the others trying to suss out who it is. Blend in and don't get caught is how the Big Potato's (publisher) heading description goes!
The Chameleon at a Glance
Game Type
Bluffing , Deduction,
Word, Team Based, Voting
Play Time
15 mins (approx)
Skill/Complexity (1.2 - 5)
Light


Age
14+
Publisher(s)
Big Potato Games
Published
2017

Categories
Party / Family
Players
3 - 8 (best 5 - 7)
Our Rating
8.5/10
Cost
$19.99 approx
Players are dealt grid code cards in this game with one of those cards being a Chameleon card, and then a topic card is turned by the dealer. The dice is rolled to decide a coordinate on the grid code card which reveals the code word to all players apart from the Chameleon, who's going to need to blend in with the crowd here.
When a code word is revealed all players take it turns giving clues, and of course the Chameleon is guessing as they don't know the word. If the Chameleon is found out they lose, but if he/she is not found out then the Chameleon wins, and if the team guess correctly with the Chameleon guessing the hidden word, then the Chameleon wins. You may choose to use the points system or not!
Like other similar games the players cannot be too obvious with the clues, in fact they actually need to be as obscure as possible.
It's a fun party game that's something like Codenames and a lot like Spyfall. An advantage over Spyfall is the ability to look at the card without getting caught as the spy or Chameleon in this game.
The Chameleon can be played with groups of 3 – 8 players and the age recommendation is age 14 and up. It's a fast game that plays out in about 15 minutes or more, which depends or whether you are playing rounds for points or not.
That's About it for Now! Final Thoughts
That's a pretty decent bunch of party games that have enough similarities like Codenames to keep a team of tabletop fiends happy for some time.
As mentioned, Decrypto is about the closest we felt to Codenames, however, some of the others that require players to not be too obvious with clue giving like CrossTalk and Spyfall share gameplay stuff very well too.
More Games Like This Type Articles